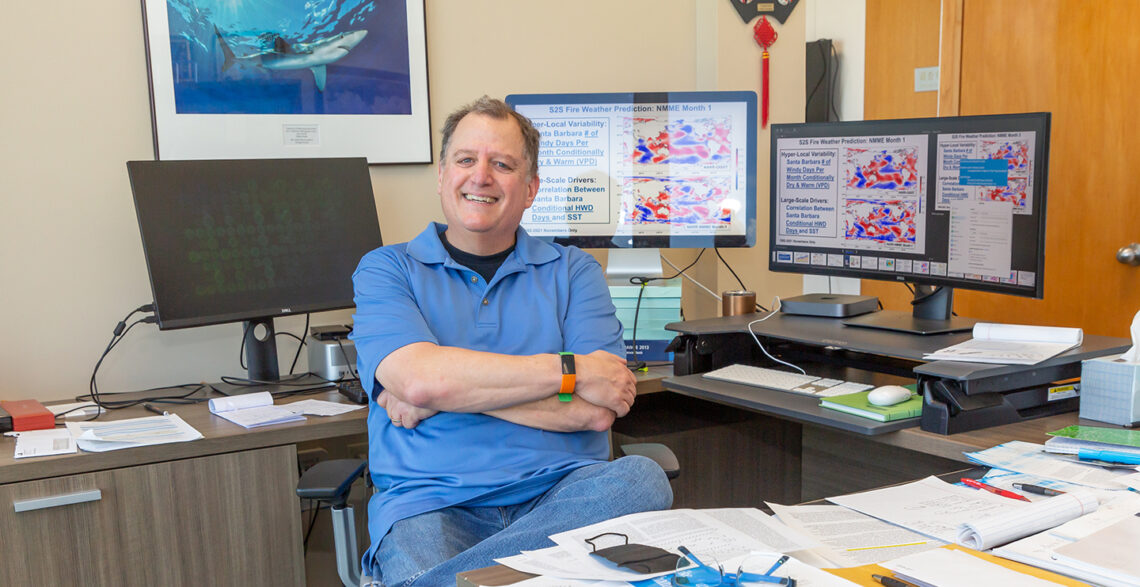 Announcing Day 1 Opening Keynote: Climatologist Dr. Ben Kirtman
In recent years, Miami has taken center stage as ground zero for climate change. At the forefront of studies on the predictability and variability of Earth's climate system, University of Miami Rosenstiel School of Marine, Atmospheric, and Earth Science professor of atmospheric science Dr. Ben Kirtman is known worldwide for using atmosphere-ocean general circulation models to bring unprecedented detail to climate change measurement. An engaging and entertaining speaker, Dr. Kirtman is often asked to share his expertise in the public eye and behind the science and we are thrilled to have him as the opening keynote of this year's Smart Cities MIAMI Conference on climate resilience in smart cities. The 6th annual Smart Cities MIAMI Conference is co-hosted by the University of Miami School of Architecture and the Institute for Data Science and Computing (IDSC) in partnership with the  Climate Resilience Academy, with special thanks to Presenting Sponsor Double C.

At the Forefront of Earth Systems Research
Dr. Kirtman was recently honored as the inaugural William R. Middlethon Endowed Chair of Earth Sciences. Currently, he serves as the Director of the NOAA Cooperative Institute for Marine and Atmospheric Studies (CIMAS), a Federally supported center of excellence that brings together the research and educational resources of 10 partner universities to provide research opportunities, educational training, and outreach to students and postdoctoral scientists in NOAA-funded research. He's also the Deputy Director of the University of Miami Institute for Data Science and Computing (IDSC) and heads their IDSC Earth Systems Science research focus area.
Globally respected for his expertise, Dr. Kirtman has enjoyed a leadership role in the World Climate Research Program's (WCRP) seasonal-to-interannual prediction activities. In particular, he has chaired the international CLIVAR Working Group on Seasonal to Interannual Prediction (WGSIP) and the WCRP Task Force for Seasonal Prediction (TFSP). He was also a coordinating lead author for the Intergovenmental Panel on Climate Change (IPCC) Working Group One—the Scientific Basis. IPCC is the Geneva-based organization created by the United Nations to educate the world about climate change and its impact.
"We have to deliver on time, in real time,
all the time, for the Federal Government."
In his research, Kirtman studies the predictability and variability of the Earth's climate system. Approached by NOAA (the National Oceanic and Atmospheric Administration) in 2010 to help the Federal Government apply weather predicting models using his methodologies, Dr. Kirtman developed a system called the North American Multi-Model Ensemble or NMME. Six years later, in 2016, the NMME was officially adopted as the operational system used to make forecasts for warning and hazards to the public. In praise of the role of the University of Miami's supercomputing power in making this happen, Dr. Kirtman said "We have to deliver on time, in real time, all the time, for the Federal Government. I couldn't have done it without the advanced computing power of UM IDSC." The NMME forecast is freely available to companies and government agencies across the U.S., and in other countries, who use it to make decisions about everything from water resource management to energy use planning.
Career Track
In 1987, Dr. Kirtman received his BS in Applied Mathematics from the University of California-San Diego, and his MS and PhD in 1992 from the University of Maryland–College Park. From 1993-2002, Dr. Kirtman was a research scientist with the Center for Ocean-Land-Atmosphere Studies, and in 2002, joined the faculty of George Mason University as a tenured Associate Professor. In 2007, Dr. Kirtman moved to the Rosenstiel School as a full professor of meteorology and physical oceanography and program director for the climate & environmental hazards program at the University's Center for Computational Science (CCS now IDSC).
In the Public Eye
Marking his passion for teaching and sharing knowledge on current efforts to improve the prediction of environmental hazards that could save lives, here is a sampling of Dr. Kirtman collaborations and presentations:
• The Florida Roundup: Climate Scientist says Florida 'not acting fast enough' on risks to your community | March 2022
• SUBX The Subseasonal Experiment: How Accurate can Weather Predictions Really Be (Crossover Podcast with video | Dr. Rick Komotar) December 2021
• Sea Secrets 2019 "Hurricanes, Floods and Fires, Oh My: Predicting Extreme Weather and Hazards from Days-to-Decades" presentation by Dr. Ben Kirtman at Rosentiel School (speech begins @15:40) April 2019
• Along with UM Chair of Geological Sciences, Dr. Harold "Hal" Wanless, Dr. Kirtman was featured in the 2016 Emmy-Award-winning National Geographic series "Years of Living Dangerously". Episode 2, "Gathering Storm," followed actors Jack Black, Ian Somerhalder, and Nikki Reed, as they witness firsthand the impact of climate change on Miami, and on the marine ecosystems off the coast of south Florida.
• On opening day of the UN Climate Change Conference in Paris (aka Paris Accords or Paris Agreement, November 30, 2015) environmental advocate Leonardo DiCaprio was visiting the Rosenstiel School in advance of his April 2016 speech to hear, firsthand, from scientists about their research into the growing impact of climate change. He toured the campus "Before The Flood" documentary film crew and spent time with Dr. Kirtman.

• CSPAN | Washington Journal part of the "Sunshine State Tour" series Climate Change, November 19, 2015
• In 2014, Dr. Kirtman was one of five Florida scientists who sat down with then Florida Governor Rick Scott to talk about the science behind climate change. (Miami Herald YouTube video)
Dr. Kirtman is an Associate Editor of the American Geophysical Union  Journal of Geophysical Research (Atmospheres section), which publishes original research articles that advance and improve the understanding of atmospheric properties and processes, including the interaction of the atmosphere with other components of the Earth system, as well as their roles in climate variability and change.  Previously, he served as Executive Editor of Climate Dynamics. He is the author and/or co-author of over 140 peer-reviewed papers focused on understanding and predicting climate variability on time scales from days to decades.
Awards and Accolades
In 2018, Dr. Kirtman was elected as a Fellow in the American Meteorological Society, which recognizes "outstanding contributions to the atmospheric or related oceanic or hydrologic sciences or their applications during a substantial period of years." Dr. Kirtman was also awarded the Stony Brook University School of Marine and Atmospheric Science (SOMAS) Robert D. Cess Distinguished Lecture in Recognition of Outstanding Contributions to Atmospheric Science. He was a 2017-18 recipient of the UM Provost's Award for Scholarly Activity and received the Department of Atmospheric Sciences undergraduate teaching award in 2016, 2017, and 2018. In 2011, Dr. Kirtman was appointed Associate Dean of Research for the Rosenstiel School. In 2008, he received the Distinguished Alumnus Award from the Department of Atmospheric and Oceanic Science at the University of Maryland. In support of his research, Dr. Kirtman has received numerous grants from the National Science Foundation (NSF), Department of Energy (DOE), NOAA, NASA, and the Office of Naval Research.