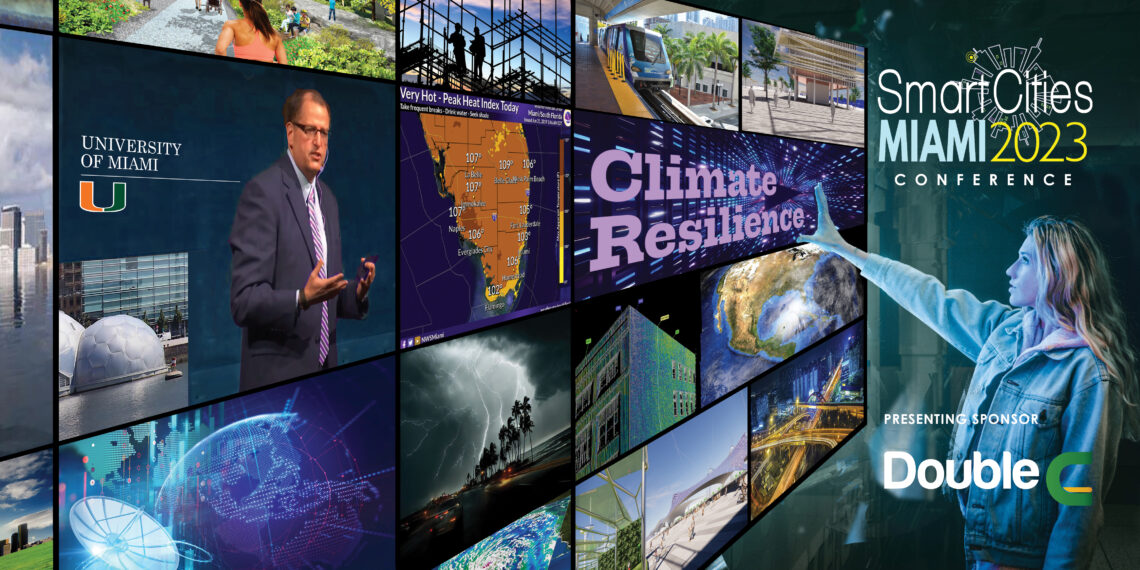 Smart Cities MIAMI 2023 Conference Focuses on Climate Resilience
Special thanks to Smart Cities MIAMI 2023 Presenting Sponsor Double C. The Conference is co-hosted by the University of Miami School of Architecture and the Institute for Data Science and Computing (IDSC) in partnership with the  Climate Resilience Academy.
About the Climate Resilience Academy
The needs of modern society are complex, and the demands and required knowledge bases within organizations evolve rapidly. Guided by its four aspirations (Hemispheric; Excellent; Relevant; and Exemplary), UM is evolving to meet these inter-connected needs—via engaging research, education, and service. The concept of an "Academy" provides a new, flexible, interdisciplinary organizational structure that complements and supports UM's existing strengths. This structure will advance UM as a hub for inter-disciplinary research, education, and community engagement.
Infrastructure and Environment Examples of topics include storm surge protection; adaptation to sea-level rise; saltwater infiltration; smart city services and infrastructure; vulnerability and risk assessment; protection of natural resources (Everglades, reefs, sea grasses, aquifer); atmospheric and maritime projections, considerations, and protections; transportation; green, blue, and grey infrastructures; building designs and codification; urban design and codification.
Human and Societal Health Examples of topics include individual and societal well-being in a changing climate and stressed environment; gentrification and access to affordable housing; climate driven migration; climate impacts awareness; access to education; impacts of climate change and environmental stressors on public health, infectious diseases, pandemics, healthcare access and quality, substances and sexual abuse, and social and racial equity.
Economic Development Examples of topics include vulnerability and risk; assessments; property law; insurance and mortgages; real estate development; the economic impacts of climate change; infrastructure adaptation; and taxation and adaptation actions.