The Annual Smart Cities Miami Conference provides a forum to consider topics within a general theme relevant to each year. The theme for the 2021 edition is health and wellbeing in the post-pandemic city, providing opportunities to explore questions such as:
• How can Smart City technology monitor the emergence and transmission of contagious diseases?
• Will Smart City technology be used to enforce compliance to safety guidelines? And what will be the consequences for individual rights and privacy?
• How do embedded technology, IoT, and digital media enable healthcare at home?
This article "The Hospital at Home—Visionary Thesis Project Addresses Pandemic and Future of Health Care" takes a look at issues around the pandemic and health care and offers an inspiring solution:
Part-time Lecturer Donnie Garcia-Navarro's interest in health care design predates the COVID-19 crisis, but his 2020 master's thesis is a timely and potential global solution to pandemic issues. "Atomized Hospital: The Future of Health Care + Patient Isolation at Home" explores not only minimizing the spread of infection but also focuses on decentralizing medical treatment.
Garcia-Navarro studied greater Miami, its sprawled development pattern, its disparity in access to quality health care plus several other factors—and created a prototype for bringing expert physicians, nurses, and other medical professionals to the patient. While there are many facets to his research, the most eye-catching is an animation that shows healthcare pods/isolation units that can move about a residential mid- to high-rise—attaching to balconies or common areas to deliver skilled care.
Garcia-Navarro—always interested in the intersection of technology, healthcare, and architecture—began looking at booming population increases predicted for Miami and looked at innovative ways to deliver healthcare to a broader swath of its diverse community. He addresses expanding needs at the macro, meso, and micro levels.
"The macro creates a network of healthcare spaces throughout the city, which alleviates the pressure on centralized emergency rooms and hospitals," he said. "The meso level looks at the pods for care at the amenity floor of a building. It could be visited by neighbors seeking care, or become an isolation unit."
Created in collaboration with RAD—a research unit led by Dean Rodolphe el-Khoury—the micro level re-imagines the medicine cabinet mirror as a smart device. "Its digital display and sensors could track your prescriptions, remind you when it's time to take your medicine," Garcia-Navarro said of the product-based healthcare design.
"The future of healthcare is centered around the patient. The Atomized Hospital provides healing at the comfort of the home. Particularly a relevant and timely solution given the recent COVID-19 challenges. To make the project feasible to all strata of society the project was designed at different scales, City, Building, and Home, said Dr. Deborah Franqui, AIA, who pushes the envelope of healthcare design with her courses at U-SoA. "The project ranges from immediate solutions to long-term healing at home. Features such as the automated medicine cabinet are sensitive to the current needs of the population affected by multiple chronic conditions. The automized hospital provides creative and technical solutions in the wake of COVID-19."
As people live longer and costs spiral, Garcia-Navarro's future projects aim to bring innovative and affordable health care solutions to diverse and distant communities—making wellness, treatment, and recovery pervasive and equitable.
Garcia-Navarro's former thesis advisor, Dean el-Khoury sees healthcare at home as one of today's big design challenges and opportunities: "I'm pleased to see U-SoA tackling this issue and delighted by Donnie's visionary project. I'm now looking forward to what he will propose next."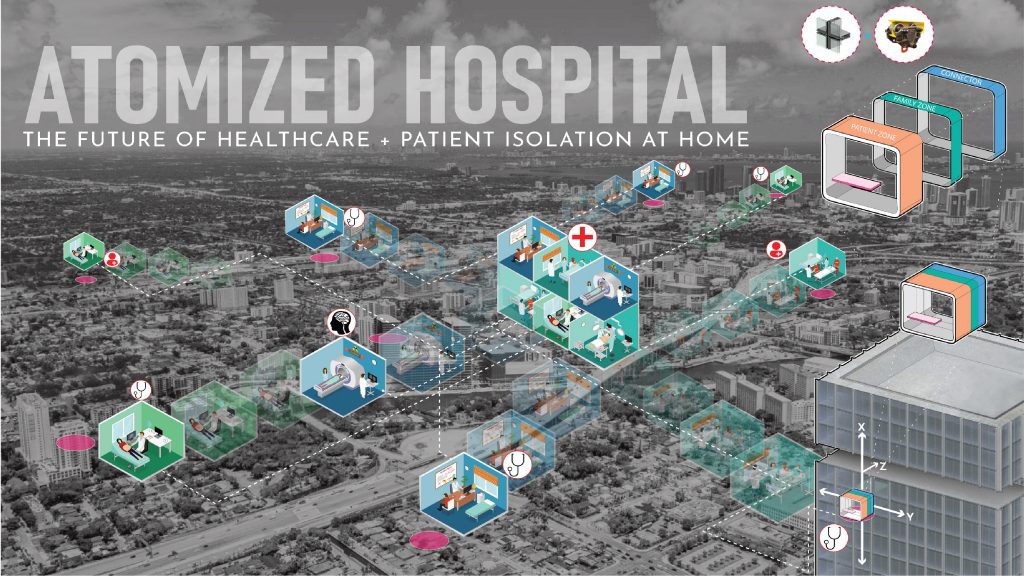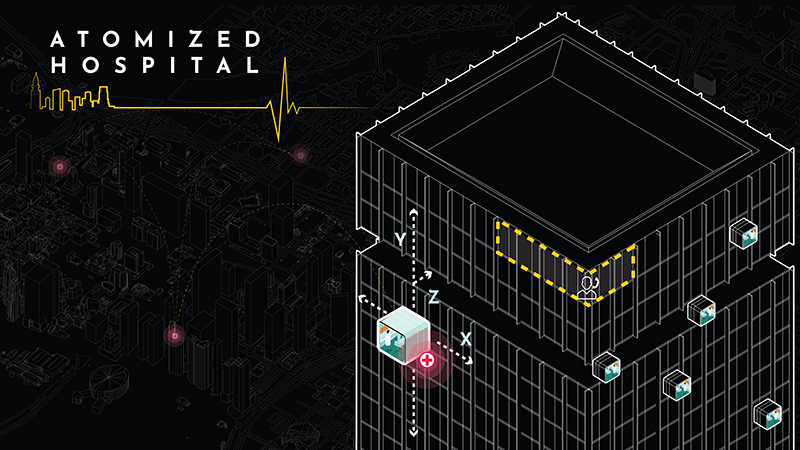 SOURCE:  NEWS@TheU | By Steve Wright