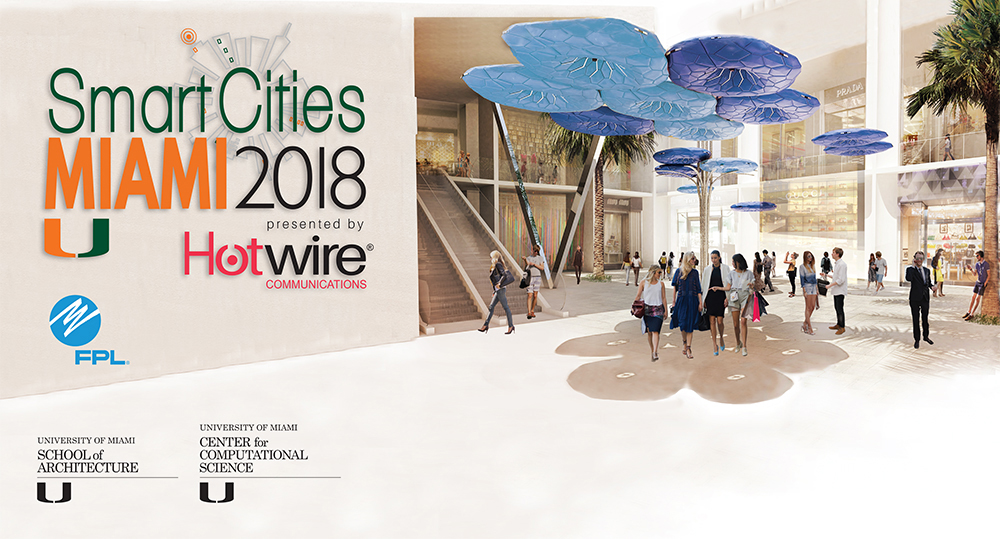 The 2nd annual Smart Cities Miami Conference, presented by Hotwire Communications, explored the convergence of technology, design, and development in the shaping of a new urban landscape transformed by design innovation and disruptive technology.
The School of Architecture Dean RODOLPHE EL-KHOURY (partner Khoury Levit Fong) kicked off the event with a survey of ongoing activities in UM's Smart Cities Program ranging from the mapping of informal settlements in Latin America with the help of digital technology to the design of a smart city in Mexico. "These projects position UM in the vanguard of the field and compel us to sustain with this annual conference, a public forum on smart cities," said Dean el-Khoury who moderated Panel 1 Design and Desires: Beyond the Practical City featuring:
Panel 1 explored areas where city-making and technology align with motivations that exceed issues of optimization and efficiency. The panelists presented and discussed examples that expanded the scope of smart cities in enhancing urban environments and experience.
The afternoon session began with Panel 2  Mapping the Hyper-Connected City: Perils and Opportunities, which took a critical look at smart cities. It was moderated by LEIGH-ANN BUCHANAN, Founding Executive Director of Venture Café Miami, and featured:
The last panel and centerpiece of the conference Panel 3 Smart Cities: From Efficiency to Sustainability, discussed the potential of new technology in building more sustainable, fulfilling and equitable cities. Examples included developments in smart buildings and energy, participatory e-governance next-generation logistics and transportation. It was moderated by JAY MASSIRMAN, President of Rivergate Companies (Real Estate Holding), featuring:
KEYNOTE SPEAKER  The conference's first day concluded with keynote speaker, David Benjamin, Founding Principal of The Living and Assistant Professor at Columbia University's Graduate School of Architecture, Preservation, and Planning (Columbia GSAPP). He presented a variety of innovative projects that treat the city as a living organism with complex and interacting components. Generative design, enabled by computational infrastructure, fueled the creation of Mycelium-based building blocks designed to compost and disappear at the end of the building's lifecycle. Generative algorithms enabled David's group to design optimal solutions to problems ranging from sustainable and resilient building façades to ultra-lightweight and extra-stiff partitions for an Airbus aircraft.
If you missed Day 1, you can watch it now on YouTube:
DAY 2 WORKSHOP  The Workshop on Day 2, "Hacking Main Street: How can technology enhance public space?" gathered teams of urban planners, architects, city officials, engineers, and students to design smart systems for The Underline, Miami's 10-mile linear park and urban trail that follows the Metrorail. Participants worked in multidisciplinary teams after receiving guidance from workshop organizers on key considerations for designing for the Internet of Things, such as system connectivity, embedded technology, big data, and user experience. The multidisciplinary teams competed for a prize that recognized innovation, entrepreneurship, and offered an impressive range of ideas that transformed the linear park into a smart corridor.  (Watch the video.)
Special Thanks
to our Presenting Sponsor Hotwire Communications
Gold Sponsor Florida Power & Light
Thank you to our Exhibitors
City of Coral Gables Smart Initiatives
Drone Nerds of Pinecrest
Emerald City
Fision by Hotwire Communications
GO+ Lighting Service by Itelecom USA
Historic Coral Gables
RAD-UM Lab
Zing Rides
SOURCE  news.miami.edu
Livestream Links:
April 5 – https://youtu.be/iinTzRO6jTY
April 6 – https://youtu.be/3vz0oE9z3_8
Smart Cities Miami 2018 presented by Hotwire Communications is offering a limited number of FREE exhibitor spaces (selection will be based on relevance of topic). If selected, you will be contacted by a member of our team to discuss the details of your station and set up. Spaces will be assigned in the Irvin Korach Gallery.
All display station items, A/V equipment, table/chairs, etc. will be the responsibility of the exhibitor.
Please click here if you would like to apply for an exhibitor space for Smart Cities Day 1 (10:00 AM-7:00 PM).
For more information, email idsc@miami.edu.
LOCATION   Jorge M. Perez Architecture Center 
(Lectures in Stanley and Jewell Glasgow Lecture Hall | Exhibits in Irvin Korach Gallery)
University of Miami School of Architecture, 1223 Dickinson Drive, Coral Gables, FL 33146  Parking Map | Directions
PARKING will be complimentary to all Day and Day 2 attendees in the 434-N lot behind the Watsco Center (yellow).  Please print and display this PARKING PASS on your dashboard.
AGENDA
Day 1 

April 5

  | Conference
Register Now | $30 per person

10:00 AM
Registration Opens + Exhibits | Coffee
11:30 AM
Framing the Conversation | Dean el-Khoury
12:00 PM
Panel 1  Design and Desire:  Beyond the Practical City
Smart Cities efforts are generally focused on problems of optimization and efficiency. The Design and Desire:  Beyond the Practical City panel explores other areas of application that are driven by a different set of priorities to expand the scope and potential of technology in enhancing urban experience.
1:00 PM
Lunch + Exhibits 
2:30 PM
Panel 2  Mapping the Hyper-Connected City: Perils and Opportunities
The Mapping the Hyper-Connected City: Perils and Opportunities panel brings perspectives from geography, urban theory, cartography, and the humanities to critically explore challenges and opportunities in digitizing the city.
3:30 PM
Coffee Break
4:00 PM
Panel 3  Smarter Cities: From Efficiency to Resilience and Sustainability
The Smarter Cities: From Efficiency to Resilience and Sustainability panel presents and discusses emerging applications of the Internet of Things, Artificial Intelligence, and environmentally sustainable technologies, in the context of a global and intensifying urbanization.
5:30 PM
Keynote Speaker
6:00-7:30 PM
Networking Reception + Exhibits

"Hacking Main Street: How can technology enhance public space?"

Smart Cities Conference Miami 2018 presents the "Hacking Main Street" Workshop which will look into the design and development of sensors with a built-in capacity to deliver information at the point of data collection. The main idea revolves around the general theme of turning the "under the hood" processes of data collection and digital connectivity into on-site visualizations carrying intelligible messages. The smart city we envision communicates the information it generates from its ubiquitous sensors at every opportunity, as an integral feature of the built environments, rather than through dashboards on desktop computers or smart devices. The goal of these systems is to heighten awareness which could result in a cultural shift as well as an immediate behavioral response. To this end, participants in this workshop will team up to ideate and produce a concept (for system that delivers information at the point of data collection) related to any domain of public life, from entertainment to sea-level rise and health. Experts from the University of Miami will kick off the workshop with short presentations of key areas for consideration when designing these systems.

8:30 AM
Registration and Continental Breakfast (groups indicated on your badge)
9:00 AM
Framing the Scope: Presentations (10 minutes each)

10:00 – 10:15 AM
Coffee Break
10:15 AM
Hacking Main Street
12:30 PM
Lunch (provided)
1:00 PM
Presentations (5 groups, with 5 minutes each and 5 minutes for Q and switching presenters)
1:50 – 2:00 PM
Award and Closing Remarks
The Day 2 Workshop will be free, but interested attendees must register for a "selection" process to attend.
Sponsorship Opportunities
Sponsorship benefits* are based on sponsorship level and include:
Recognition in all collateral, electronic communications, and signage
Recognition on Smart Cities webpage, on signage at event, and in printed program
Free passes to Smart Cities Miami 2018 presented by Hotwire Communications
Opportunity to nominate a panelist for conference panel
*List is not inclusive of all benefits.  For more information, please contact Evelyn Cruz at ecruz3@miami.edu.

KEYNOTE SPEAKER

David Benjamin  | The Living New York

David Benjamin is Founding Principal of The Living and Assistant Professor at Columbia GSAPP. His work focuses on expanding the definition of environmental sustainability through the frameworks of biology, computation, and a circular economy. He and the firm have won many design prizes, including the Emerging Voices Award from the Architectural League, the New Practices Award from the AIA New York, the Young Architects Program Award from the Museum of Modern Art and MoMA PS1, and a Holcim Sustainability Award. Recently, Benjamin appeared in Rolling Stone as one of "25 People Shaping the Future," and The Living was ranked third on Fast Company's list of World's Ten Most Innovative Architecture Firms.

Clients include the City of New York, Seoul Metropolitan Government, Google, Nike, 3M, Airbus, BMW, Frost Science, and Björk.

Recent projects include:

PANELISTS | Day 1

PANEL 1


Design and Desire:  Beyond the Practical City

Dean Rodolphe el-Khoury  | MODERATOR

Dean,  University of Miami School of Architecture (UMSoA)
Program Director,  UM Center for Computational Science (CCS), Smart Cities
Partner,  Khoury Levit Fong (KLF)

Before coming to UMSoA in July, 2014, Dean el-Khoury was Canada Research Chair and Director of Urban Design at the University of Toronto, Head of Architecture at California College of the Arts, and Associate Professor at Harvard Graduate School of Design. He has taught at Columbia University, Rhode Island School of Design, and Princeton University and has had Visiting Professor appointments at MIT, University of Hong Kong, and Rice University (Cullinen Visiting Chair). After earning a Bachelor of Architecture and Bachelor of Fine Arts from Rhode Island School of Design, Dean el-Khoury obtained a Master of Science in Architecture from MIT and his Ph.D. from Princeton University.

Dean el-Khoury was trained as both a historian and a practitioner and continues to divide his time between scholarship and design. As a partner in Khoury Levit Fong (KLF), his award-winning projects include Beirut Martyr's Square (AIA San Francisco), Stratford Market Square (Boston Society of Architecture), and the Shenzen Museum of Contemporary Art (AIA Cleveland). His books on eighteenth-century European architecture include The Little House: An Architectural Seduction, and See Through Ledoux; Architecture Theatre, and the Pursuit of Transparency. Books on contemporary architecture and urbanism include Monolithic Architecture, Architecture in Fashion, States of Architecture in the Twenty-first Century: New Directions from the Shanghai Expo, and Figures: Essays on Contemporary Architecture.

el-Khoury's current research in architecture focuses on applications for information technology, aiming for enhanced responsiveness and sustainability in buildings and smart cities. He is also working on the application of robotics and embedded technology in architecture in projects and prototypes for interactive and responsive environments, including immersive environments and multi-sensory architecture. With the tools and resources of RAD-UM, his lab at UMSoA, he aims to put every brick online and believes that "embedded technology empowers networked environments to better address the environmental and social challenges we face today."

Articles on his projects and research have appeared in the Wall Street Journal, The Globe and Mail, The Toronto Star, and WIRED Magazine. He was also featured online (Gizmodo, DeZeen, Fast Company, Domus, Reuters) and on television and radio shows (CBC, Space Channel, NBC, TFO, BBC World), speaking about the Internet of Things (IoT) and the importance of connectivity. His work in this area is documented in The Living, Breathing, Thinking Responsive Buildings of the Future (Thames and Hudson, 2012). His 2013 TEDxToronto talk on Designing for the Internet of Things has been viewed more than 63,000 times.

 

Ivan Toth Depeña

Artist, Depeña Studio

Ivan Toth Depeña is an artist who is currently living and working in Charlotte, NC. With a Masters Degree in Architecture from Harvard University's Graduate School of Design, Depeña's artistic production is informed by his experience in art, architecture, technology and design, and encompasses a range of media. Depeña pursues the intersection between different disciplines with the aim of choreographing the moment when these aspects come together seamlessly. Using traditional avenues such as drawing, painting and sculpture then interweaving interactivity/responsiveness, video, light and high-tech methods of fabrication, Depeña explores the fine line between chance and intention. 

Depeña has been working increasingly in the public realm and maintains a rigorous and experimental, self directed studio practice. He has exhibited extensively, nationally and internationally, in both solo and group exhibitions, including at the McColl Center, NC; Praxis NY, NYC; New Britain Museum of American Art, CT; Pérez Art Museum Miami, Frost Art Museum, and the Museum of Contemporary Art, North Miami. Depeña has recently completed large-scale public commissions in New York, NY; Denver, CO; Albuquerque, NM; Gainesville, and Miami, FL. His work is held in numerous public and private collections.

In early 2014, he was awarded a prestigious Knight Arts Challenge Miami Grant for his proposal for a first of it's kind series of augmented reality public art projects throughout South Florida called "Lapse". Depeña was also a finalist for the renowned Cisneros Fontanals Art Foundation (CIFO) Grants & Commissions program for Hispanic artists for 2017-2018. In addition, he received a nominated for the prestigious United States Artist grant in 2017.

Jordan Geiger

Director, Jordan Geiger Large Interaction Design and Research  |  Assistant Professor of Architecture, University at Buffalo (SUNY)

Jordan Geiger is an architect, writer and educator. He is currently Director of Jordan Geiger Large Interaction Design and Research, and Assistant Professor of Architecture at the University at Buffalo (SUNY), where he conducts research at the Center for Architecture and Situated Technologies (CAST)  Geiger has also taught architecture and urban design at the Academy of Fine Arts in Vienna, UC Berkeley, the California College of the Arts in San Francisco, and at Syracuse University.

Geiger's work relates architecture to new social and environmental implications of human computer interaction, frequently investigating globalization's design problems at many scales. Design research outcomes include buildings, objects, and landscapes proposals; but also written and graphic analyses, and technological investigations. He publishes, exhibits and lectures on these internationally. In addition to his edited volume, Entr'acte: Performing Publics, Pervasive Media and Architecture, Geiger has published essays and projects in journals such as Leonardo, The Avery Review, ARPA Journal, ARCH+, MAS Context, Bracket, and Scapegoat.

Amanda Sanfilippo

Curator for Art in Public Places, Miami Dade County Department of Cultural Affairs  |  Director and Chief Curator, Fringe Projects

Amanda Sanfilippo is a contemporary art specialist with experience organizing site-specific commissions in the public realm and for institutions. She has experience as a curator and a track record of effective fundraising and strategic planning for not-for-profit and independent organizations.

Currently, she is the Curator for Art in Public Places of Miami Dade County Department of Cultural Affairs, a nationally renowned public art commissioning program with a collection of over 700 artworks, and oversees the South Florida Cultural Consortium Fellowship Program for Visual and Media Artists, an annual program which offers the largest regional, government-sponsored artists' grants in the United States. Ms. Sanfilippo is also the Director and Chief Curator of Fringe Projects, Miami's premier temporary public art commissioning agency, and has held positions at Locust Projects, Miami, FL; Creative Time, New York, NY; The Whitney Museum of American Art, New York, NY; and the BCA Center, Burlington, VT.

She holds an MA in Contemporary Art History from the Sotheby's Institute of Art, London in conjunction with the University of Manchester and an undergraduate degree in Art History and English from the University of Vermont, Burlington. Amanda contributes critical reviews to contemporary art journals and publications.

Professor Nasrine Seraji, AA dipl FRIBA

Founder and Principal, Atelier Seraji Architectes et Associés (ASAA)
Professor and Head of the Department of Architecture, The University of Hong Kong

After studying at the Architectural Association and practising in London, Seraji moved to Paris and established her studio where architecture is treated as both a cultural debate and a critical practice. Since, she has pursued a path constantly enriched by her simultaneous engagement in architectural practice, teaching, and research. She has taught and directed many schools globally, she has lectured and exhibited her work widely in Europe and North America, the Middle East as well as China and South East Asia.

Recipient of many honours notably Chevalier de l'Ordre National de la Légion d'Honneur, in 2016 she became Officier de l'Ordre Nationale du Mérite and most recently she received the distinction of Officier de l'ordre des Arts et des Lettres.

PANEL 2


Mapping the Hyper-Connected City: Perils and Opportunities

Leigh-Ann A. Buchanan, Esq. | MODERATOR

Founding Executive Director, Venture Café Miami

Leigh-Ann A. Buchanan, Esq., is the founding Executive Director of  Venture Café Miami. In this role, she works to facilitate sustainable growth, increased diversity and inclusion, and greater connectivity within Miami's innovation and entrepreneurial community. Since launching in mid 2016, VCM's innovation programming has attracted over 17,000 attendees, resulting in content partnerships with 350+ organizations and 600+ free educational sessions.

Leigh-Ann frequently speaks on and writes about cultivating inclusive innovation communities, experiential leadership development and strategies for social justice innovation. Previously, she served as legal counsel to entrepreneurs, startups and multinational corporations in a wide variety of complex business litigation matters and commercial disputes.

Leigh-Ann is the founder of the Nyah Project, an exclusive fellowship which develops diverse youth leaders from underserved communities through transformative experiences abroad, where 100% of Nyah fellows receive college acceptance and 90% win scholarships.

She has been recognized as a Harvard Business School Young Leaders of America (2018); Miami Fellow (2017); Black Enterprise Magazine, Miami Tech Trailblazer (2017); Dade County Bar Association, Woman on the Rise Award (2017); Legacy Magazine, Under 40 Achiever (2017); Miami Girls Foundation (2017); Miami Dade Chamber Young Innovator of the Year (2016); Aspen Institute's National Working Group on Inclusive Innovation (2016); American Bar Association Top 40 Young Lawyers (2016); Bethune Cookman University, 40 Under 40 (2016); Daily Business Review, Rising Star (2015); Greater Miami-Dade Chamber of Commerce, HYPE Award finalist (2014); National Bar Association Women Lawyers Division Rising Star Award (2013); and South Florida's 40 Under 40 Black Leaders (2013).

Richard Grant

Professor of Geography, and Urban Studies Director, University of Miami.

Richard Grant, PhD, is an urban economic geographer who works mainly on Africa. His most recent book is Africa: Geographies of Change, 2014, Oxford University Press. He is also the author of Globalizing City: the Urban and Economic Transformation of Accra, Ghana, 2009, Syracuse University Press. His current research focuses mainly in the cities of Accra, Johannesburg, Cape Town and Miami. His projects focus on electronic waste, xenophobia, immigrant entrepreneurship, creative urban spaces, slum economies and sustainable urban development. He teaches study abroad courses in South Africa in spring and summer sessions.

Elizabeth Plater Zyberk, FAIA, LEED AP

Malcolm Matheson Distinguished Professor of Architecture and Director of the Master of Urban Design Program | UM School of Architecture
Joint appointment in the Department of Public Health Sciences at the UM Miller School of Medicine

Plater-Zyberk was dean of the UM School of Architecture 1995-2013. She teaches courses on urban design and built environment adaptation to climate change.

She has collaborated with faculty across the University including recently with Engineering colleagues researching net-zero water management in buildings. She is a member of the UM Built Environment Behavior and Health Research Group, working with Miller School faculty on projects researching the well-being of children and elders' relation to characteristics of the built context in which they live. As a consultant with DPZ Partners, she has worked with healthcare systems in Richmond and Chicago on the design of their campuses and community surroundings.

Plater-Zyberk is recognized as a leader of the movement called the New Urbanism, promoting walkable resilient urban design. A co-founder of the Congress for the New Urbanism in 1992, her teaching, research and consulting professional practice has ranged across new community design, community rebuilding, regional plans, and zoning codes. A number of innovations in professional practice—such as the traditional neighborhood design zoning code (TND)—were initiated with students in School of Architecture design studios and first implemented through community outreach in south Florida. Recent professional projects include the design of the University President's house and the City of Miami Zoning Code, Miami 21.

Publications include refereed journal articles and book chapters. She is co-author of Suburban Nation: the Rise of Sprawl and the Decline of the American Dream, and The New Civic Art: Elements of Town Planning. Her work, with Andres Duany and DPZ Partners, has received numerous awards and recognitions including honorary degrees, Architectural Record's first "Women in Architecture" Award, and the Richard H. Driehaus Prize for Classical Architecture. She has served on numerous review and editorial panels, including the U.S. Commission of Fine Arts.

Allison Schifani

Assistant Professor of Digital Humanities, UM Department of Modern Languages and Literatures

Allison Schifani is Assistant Professor of Digital Humanities in the Department of Modern Languages and Literature at the University of Miami. She received her PhD from the University of California, Santa Barbara's Graduate Program in Comparative Literature. Her work on media technologies, art, literature and the urban can be found in The Journal of Urban Cultural Studies, Media Fields, and elsewhere. She is also a founding member of the urban research and design collaborative, SPEC. Her research interests include: Digital Humanities; Media and Technology Studies; Critical Theory; Urban Studies; Cultural Geography; 20th and 21st Century Literature of the Americas, Theories of the Body, Biology, and Life; and the Intersection of Geo-Techno Ecologies, Literary Texts, and Urban Practices

Danielle Ungermann

Co-Captain, Code for Miami; Product Marketer for BrightGauge Software; curator of Startup Digest Miami

Having graduated from the University of Miami with a degree in Journalism and Psychology it was in her studies that Danielle Ungermann first became interested in learning more about technology and it's implications on our everyday lives. She has since focused on working with different software tools to align solving real problems with the boost of data. Serving as the co-captain of local Code for America brigade Code for Miami, Danielle has organized numerous hackathons and events intent on getting citizens involved in their communities and with local government to help enact change and see the value in access to open data.

PANEL 3
Smarter Cities: From Efficiency to
Resilience and Sustainability

 

Jay Massirman | MODERATOR

President, Rivergate Companies

Rivergate Companies is a real estate holding company focusing its efforts and resources on our active joint venture partners, with the goal of delivering outsized returns in varying product types, geographies, and market cycles.

The firm is presently engaged in several strategic ventures including: urban in-fill self-storage development & investment, multifamily development & investment, and multifamily property management. Rivergate invests its own capital alongside the firm's relationships with high net worth, foreign, family office, and institutional investors. Jay is also extensively involved in emerging markets and technologies relating to urban development, parking, storage, and logistics.

Jay has over 30 years of real estate experience, and has participated in over a billion in principal transactions. Jay was formerly a Vice Chairman with CBRE Global Real Estate Investment Management, where he participated in over $10 billion in advisory transactions over a stellar 20-year career.

Citizenship:

Jay received his BBA in Finance and Accounting  from University of Miami.

Rodrigo Arboleda

CEO, Fastrack Institute

Rodrigo Arboleda is a senior executive with 50 years of experience in the fields of Architecture, International Business Development, Education and Technology, Civic and Philanthropic endeavors. After graduating from MIT as an architect in 1965, he became an award‐winning architect in his native Medellin, Colombia.

For more than a decade, Rodrigo managed the expansion ( for Latin America, Spain, and Portugal) of Ogden Corporation, a large US multinational in the service industry in the fields of airport management, development of venues (in which entertainment and sport events took place), and the production of energy by burning municipal solid waste (known as Waste‐to‐Energy). As part of that effort he was the first president of the Aeropuertos Argentina 2000 consortium, managing 33 airports. He also managed the construction of the largest Fair and Exhibit grounds in Buenos Aires, and the Isla Mágica theme park in Seville, Spain.

Additionally, for more than 33 years, he contributed to the advocacy of the use of technology in education with his friend and classmate Nicholas Negroponte, founder of the renowned Media Lab at MIT, first in Colombia and later as the worldwide CEO of the One Laptop Per Child (OLPC) project.

Currently, Rodrigo is the CEO of Fastrack Institute, a nonprofit entity co‐founded with Salim Ismail, co‐founder and former CEO of Singularity University and with Maurice R. Ferré MD, co‐founder and former CEO of Mako Surgical, currently CEO of Inisghtec of Tel Aviv. The purpose of the Fastrack Institute is to accelerate exponential technologies into societies.

Andrea Calace

Senior Manager, Cisco IOT and Smart City Business Development – Americas

Andrea Calace moved to Miami from Europe in 2007, after graduating from its MBA at IE Business School. He studied computer science engineering, joined Cisco in 1999, and became a Cisco Certified Internetwork Expert within a year. Passionate about technology and new market transitions, Andrea joined Cisco's Internet of Things and Smart City initiatives from the very early incubation (in 2011 ), through a JV aimed to build up the first smart city of Songdo in South Korea. In his role, he has enabled strategic investments and acquisitions, developed market access strategies, built ecosystems and consortia, and positioned globally Cisco's smart City vision, contributing to make Cisco today the Smart City Supplier leader in the industry based on its urban innovation and its strong sector-specific portfolio of solutions.

Audrey Levi

Executive Vice President, Business Development, Inacomp Technology Solutions Group

Audrey Levi is EVP, Business Development, for Inacomp Technology Solutions Group. Inacomp works with mid-market organizations including state and local governments, educational institutions, and commercial business to align information technology, processes and people to business goals and objectives.

Audrey recently completed a project with Americaribe and Buoygues Construction to design and implement a new, modern infrastructure for Ridge Hospital in Accra, Ghana. Financing for the project came from EXIM Bank and in order to meet the requirements of that funding, all equipment was set up in a data center here in Miami, configured and tested, and then shipped to Ghana for final installation. This was an essential project for the City of Accra, and the revamped hospital now represents one of the most advanced medical facilities in West Africa.
Audrey holds numerous sales and technical certifications from leading enterprise IT manufacturers around complex IT solutions that include voice and video collaboration, wireless and wired network infrastructure, security, data center design, and IoT. She has owned several technology businesses in South Florida and recently joined Inacomp to build out their national commercial and managed services divisions. Audrey has previously served as President of Tech Data's Tech Select Community, a group of more than 450 IT resellers nationwide. Audrey holds a degree in Political Science, Cum Laude, from Brandeis University.

Jim Slattery

Senior Vice President of Advanced Technologies, Hotwire Communications, LLC

After designing, building and configuring the key fiber ring that runs Hotwire Communications, Jim Slattery, Senior Vice President of Advanced Technologies, personally contributed to the negotiations for its purchase, establishing a fiber infrastructure to support customers from across the country.

Several different aspects of Hotwire Communication's technological advancements have come through Jim's leadership including the installation of Minerva IPTV systems and the GPON network deployed to provide Hotwire services.
As a technology authority, Jim has garnered accolades and peer recognition from the community, operating his own consulting firm for 13 years and acting as an advisory board member to Motorola Telco, Ruckus, and Pace.
Between teaching certification classes in Cisco and speaking engagements at tradeshow panel discussions, Jim finds that time can be the only obstacle to overcome, as there is always something new to discover in the field of technology.

Matt Zirkelbach

President, RunBrook | Co-Founder, SustainaBase

CLASS 1 RESNET HOME ENERGY RATER,  LEED FOR HOMES AP,  LEED FOR HOMES GREEN RATER,  FGBC CERTIFYING AGENT,  NGBS GREEN VERIFIER

Matt is an entrepreneur driving success and organizational value through sustainability. He is the president and co-founder of RunBrook and SustainaBase. RunBrook helps multifamily and production home builders navigate various green building rating systems and ordinances, provides blower door testing and Home Energy Ratings, and helps obtain incentives to offset costs. SustainaBase is a web-based platform helping governments and corporations set and track sustainability goals through collection and management of key data. Under Matt's leadership and decades of experience, his companies have certified and tested thousands of residential units, and secured millions in energy tax incentives and cost-savings. Through his vision and proprietary technology, he has also helped numerous governments and companies collect, analyze, and report carbon performance, water use, and other key metrics crucial to meeting their sustainability goals. Matt holds a masters and bachelor's degree in Environmental Science, as well as numerous building energy and sustainability certifications.
Thank you to our Sponsors





Smart Cities Miami 2018 presented by Hotwire Communications
is jointly organized by UM Center for Computational Science and UM School of Architecture. 
@UMCCS  @UM_SoA  #smartcitiesmiami
Interested in sponsoring this event?  Email ccs@miami.edu  for details.