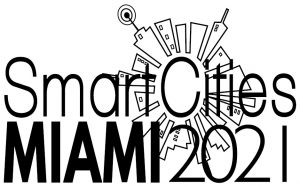 Smart Cities MIAMI Conference
April 15, 2021 | 1:00-4:00 PM
Exhibitor Spaces (suspended for 2021)
To aid in the design and development of more sustainable, livable, and resilient cities, the University of Miami brings cutting-edge research in urban planning, architecture, and engineering in alignment with computational resources and analytical methods. The annual Smart Cities MIAMI Conference is an extension of these efforts, providing a forum for leaders in academia, industry, and government to closely examine evolving theories and practices in the Smart City field.  The topics considered vary in scope and nature within a general theme that is particularly relevant for each year.
The theme for the 2021 edition is health and wellbeing in the post-pandemic city. 
Exhibitor spaces are free and chosen on the basis of suitability to the theme.  As the Conference will be virtual for 2021, Exhibitor spaces have been suspended.