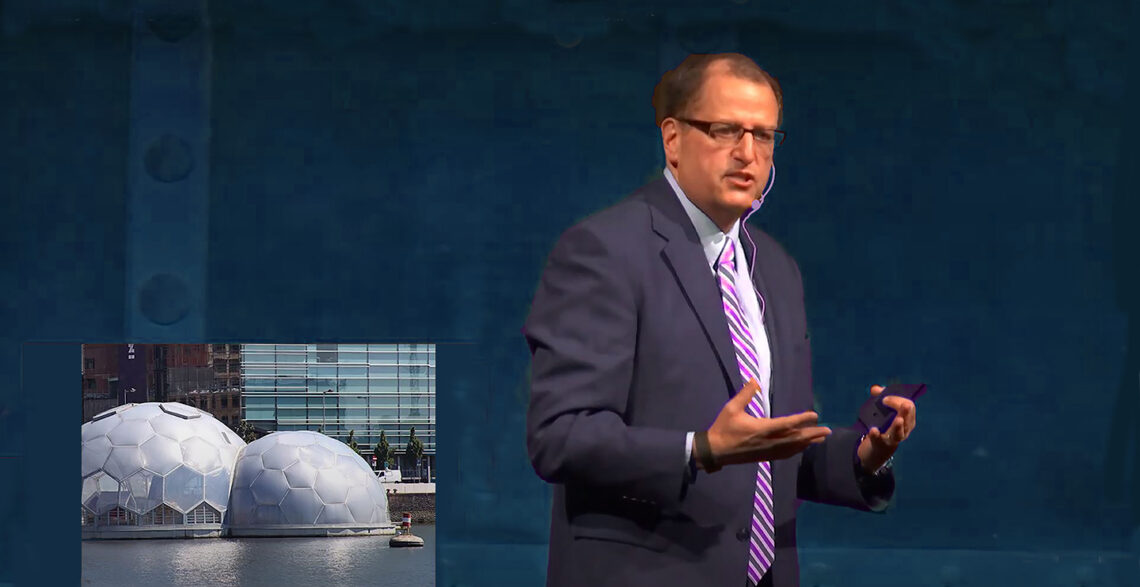 Smart Cities MIAMI 2023 SPEAKERS
Here is the full line-up of Smart Cities Miami speakers for Day 1 and Day 2, including opening and closing keynote speakers and all panelists.
REGISTER NOW for Smart Cities MIAMI 2023
DAY ONE
• Climate Resilience
Buffet Lunch—Exhibits Open [ 12:00-1:00 PM ]
Conference Begins [ 1:00 PM ]
OPENING KEYNOTE [ 1:10 PM ]
Dr. Ben Kirtman
William R. Middelthon Endowed Chair of Earth Sciences
Professor, Department of Atmospheric Sciences | UM Rosenstiel School
Director | NOAA Cooperative Institute for Marine and Atmospheric Studies (CIMAS)
Deputy Director | UM Institute for Data Science and Computing (IDSC)
In recent years, Miami has taken center stage as ground zero for climate change. At the forefront of studies on the predictability and variability of the Earth's climate system, University of Miami Rosenstiel School of Marine, Atmospheric, and Earth Science professor of atmospheric science Dr. Ben Kirtman is known worldwide for using atmosphere-ocean general circulation models to bring unprecedented detail to climate change measurement. An engaging and entertaining speaker, Dr. Kirtman is often asked to share his expertise in the public eye and behind the science and we are thrilled to have him keynote this year's Smart Cities MIAMI Conference on climate resilience in smart cities.
PANELS
PANEL 1 Smart and/or Resilient [ 1:40-2:25 PM ]
How does smart-city infrastructure facilitate adaptation? What are the promising technologies in the climate-solutions space? What are the challenges from a cyber-security angle? What are the ethical and legal consequences of technology driven solutions? These and other questions tackle the promise and potential pitfalls of technological solutions to climate change impacts.
MODERATOR
Pete Martinez
Pete Martinez is Chairman and CEO of the SIVOTEC family of companies; high tech and scientific innovators at the massive intersection of Health, Sports, Technology, Big Data Analytics, and Artificial Intelligence. Martinez is also the Chairman of RaiseLink a FinTech platform for advanced investor-startup matching, engagement, and related services.
An international entrepreneur, he has led numerous high impact initiatives in the areas of high technology, business consulting, healthcare, and education. Martinez is a 32 year veteran of IBM, where he was Vice President of Global Business Services and Senior Executive for IBM South Florida. He is also a research affiliate at MIT, and avisiting professor at Florida Atlantic University and Florida International University.
With over 30 patents and publications he is a frequent international speaker while consulting to leading edge companies. He is a graduate of the University of Miami College of Engineering and past Chairman of the Florida Research Consortium. June 22, 2007 was proclaimed 'Pete Martinez Day' by the City of Boca Raton.
PANELISTS
David R. Chapman, PhD
Associate Professor | UM Department of Computer Science
Dr. Chapman has had three years of industry experience with Oceaneering International, where he developed a novel dynamic programming algorithm for edge detection for the purposes of subsea robotic navigation. Dr. Chapman's present research emphasizes computer vision and image processing algorithms primarily with applications to medical imaging analytics. Recent research results include a novel semi-supervised image classification algorithm with applications to lung cancer screening as well as COVID19 classification, a novel algorithm for CT-scan image deep denoising, as well as an approach for domain invariant feature learning to reduce algorithmic bias for X-ray image screening for Tuberculosis.
Dr. Chapman is actively collaborating with RAD-AID International (they bring radiology to low-resource areas), Carestream Health (a worldwide provider of X-ray imaging systems), and the U.S. Dept. of Homeland Security, to create the largest ever medical imaging dataset for Tuberculosis screening. He is also collaborating with RAD-AID International and Google Foundation to address and overcome issues of algorithmic bias that may affect clinical translation of diagnostic screening to low- and middle-income countries. Furthermore, he is collaborating with the National Alliance against Disparities in Public Health (NADPH) to improve AI infrastructure for minority-serving institutions. Finally, Dr. Chapman is working on the development of core computer vision and machine learning algorithms, including a novel methods for semi-supervised learning and edge detection.  (Read the recent article in IDSC Magazine on Dr. Chapman:  Meet the Scientist Fast-Tracking Improvements in Digital Image Diagnostics.)
Tony Cho
CEO & Founder | Future of Cities
Tony Cho is a real estate pioneer, impact entrepreneur, and the CEO & founder of the Future of Cities—a mission-driven consortium and multi-pronged platform invested in transforming the built environment by adopting environmental, social, and governance (ESG) strategies to improve the quality of urban living.
Influenced by his work as founder and chairman of Metro 1—an award-wining, forward-thinking real estate investment and development firm—Cho's career has focused on shaping neighborhoods and developing sustainable cities. Cho is also a co-founder of the Magic City Innovation District Little Haiti and he has played an influential role in shaping other emerging neighborhoods, including Wynwood, as a founding member of the Wynwood Business Improvement District (BID) championing the progressive rezoning of the area, which transformed blighted streets into a diverse, 24-hour, mixed-use, arts-and-innovation district.
Cho and his wife, Ximena, founded the Cho Family Foundation, focused on environmental, wildlife, and indigenous culture awareness and preservation as well as mental, physical, and spiritual wellbeing. The Foundation has supported organizations such as the Chopra Foundation, Amazon Watch, and Path of the Panther. Leveraging the principles of social capitalism, the pair have also founded and grown several other pioneering businesses, including ChoZen Retreat, a sustainable eco-retreat and sanctuary in Central Florida, and they are investors in companies such as Dance, OpenSeed, and CARAVANA.
Kenneth W. Goodman, PhD, FACMI, FACE
Executive Vice President, Opportunity Miami | Miami-Dade Beacon Council Board of Directors
Matt Haggman is Executive Vice President, One Community One Goal at the Miami-Dade Beacon Council. In this role he leads the efforts of this community-wide strategic initiative focused on shaping Miami-Dade's economic future. Relaunched in 2012 as a roadmap for long-term economic development success, One Community One Goal (OCOG) convenes a broad spectrum of Miami-Dade businesses, anchor institutions, and organizations in both the private and public sectors, collaborating to advance the goal of a thriving, inclusive, and diverse community. Haggman served as Co-Chair of One Community One Goal from 2015 to 2017.
Haggman is an ardent believer in entrepreneurship as a way to transform communities from the ground up. Previously, as Miami Director at the Knight Foundation, he created and built the Foundation's program focused on propelling high-growth entrepreneurs and civic innovators as a way to drive innovation, expand opportunity, and stir greater community engagement. Numerous efforts funded and supported under Haggman's leadership are now pillars of Miami's rapidly growing entrepreneurial ecosystem. This includes Endeavor Miami, The Idea Center at Miami Dade College, eMerge Americas, Center for Black Innovation, 500 Startups Miami, and Babson's Women Innovating Now Lab, among many others. Several Harvard Business School case studies have cited the work. In The Miami Herald, Haggman was called "the cornerstone of a renaissance in Miami tech" and "a pioneer in Miami [who] has spearheaded the entrepreneurial movement."
Prior to joining the Knight Foundation, Haggman was an award-winning journalist with The Miami Herald and the Daily Business Review. He covered business, government, and investigative stories of local and national importance. Results of his and his colleagues' work include consumer protection reforms in Tallahassee, an overhaul of Miami-Dade County government, and changes to voting systems in Florida. Haggman has won numerous local and national awards, including a Gerald Loeb Award, the highest honor in business journalism. In his last two years at The Miami Herald he twice won the President's Award, honoring the best work in the McClatchy Newspaper chain. In his last year as a reporter, he was named Best Miami Herald Reporter in Miami New Times' annual "Best of Miami" awards.
With a long-held passion for Miami, Haggman has been active in numerous organizations across the community. He currently is a founding Board Member of Endeavor Miami, a Trustee at New World Symphony and advisor to national nonprofit, Right to Start. Haggman previously served as co-chair of One Community One Goal. He has been a mentor with Big Brothers Big Sisters of Miami for more than a decade. Several years ago, Haggman joined with friends to launch TEDxMiami, which continues today under a new generation of leaders. Originally from Boston, Haggman has degrees from Tulane University and Vermont Law School. He and his wife Danet Linares live in Coconut Grove.
Cyrus Hodes
Co-Founder | World Climate Tech Summit
Co-Founder | Duckweed Bio
Co-Founder | AI Initiative (The Future Society)
Partner | FoundersX Ventures
Cyrus is a co-founder of the World Climate Tech Summit and is the co-founder of Duckweed Bio, an Agtech/climate tech startup based in south Florida. He is a Contributor with Blockchain Web Services (BWS) a Web3 P2P cloud computing platform for Machine Learning which enables resilient and more sustainable computation on a distributed network.
Cyrus is a Partner at FoundersX Ventures, a cross-stage Silicon Valley VC firm focusing on AI, biotech, digital healthcare, enterprise SaaS, quantum computing, Fintech and Foodtech.
He was the co-founder and Chair of the AI Initiative of The Future Society, a think and do tank incubated at the Harvard John F. Kennedy School of Government, where he led global governance of AI projects such as the Global Data Access Framework with the Executive Office of the UN Secretary General Office and global management consulting firm McKinsey & Company. He served as Advisor to the UAE Minister of Artificial Intelligence where he convened for 2 years the Global Governance of AI Roundtable at the World Government Summit.
Besides volunteering with the Global Partnership on AI (GPAI) on AI for climate action, he is a member of the International Advisory Board of the EU Parliament STOA, a member of the OECD Expert Group on AI (ONE AI) and a member of the AI Ethics Board of Smart Dubai.
Cyrus was educated at Sciences Po Paris, where he later was a Lecturer in International Security, holds a M.A. (Hons) from Paris II University in Defense, Geostrategy and Industrial Dynamics and a M.P.A. from Harvard John F. Kennedy School of Government.
Ingrid Vasiliu-Feltes, MD, MBA
Member, Forbes Business Council
Founder | Institute for Science Entrepreneurship and Investments
Co-Founder | World Smart Cities Economic Development Council
Lecturer | Miami Herbert Business School
Dr. Ingrid Vasiliu-Feltes s a healthcare executive, futurist, and globalist who is highly dedicated to digital and ethics advocacy. She is a Forbes Business Council member, digital strategist, passionate educator, and entrepreneurship ecosystem builder, known as an expert speaker, board advisor, and consultant. Throughout her career, she has received several awards for excellence in research, teaching, or leadership. Most notably: WBAF World Excellence Award-Social Entrepreneurship 2021, Top 10 Quantum, Top 10 HealthTech, Top 10 Privacy, Top 20 Digital Twins, Top 50 Global Ecosystem Thought Leaders. Additionally, she serves as an Expert Advisor to the EU Blockchain Observatory & Forum, is leading the Government Blockchain Association Global's Smart Cities Working Group, serves as Chair of the World Metaverse Council's Ethics Working Group, and is the Co-Founder of the WBAF World Smart Cities Economic Development Council.
Dr. Vasiliu-Feltes completed her resdiency and fellowship training at Columbia University in NYC and her Executive MBA at the Miami Herbert Business School. She is member of numerous prestigious professional organizations and holds several executive certifications, such as Bioethics from Harvard; AI and Business Strategy, and, Blockchain Technology and Business Innovation from MIT Sloan; Finance from Harvard Business School; Negotiation from Harvard Law School; and Innovation and Entrepreneurship from Stanford Graduate School of Business.
Dr. Vasiliu-Feltes holds numerous leadership roles in the commercial and not-for-profit arenas, and continues to teach at the WBAF Business School and the Miami Herbert Business School. She is also acting as the Chief Innovation Officer for Government Blockchain Association and is an Ambassador for Women in AI. Most recently, she served as President of Detect Genomix, and Chief Quality and Safety Officer Chief and Innovation Officer for Mednax, and Chief Quality and Safety Officer and Chief of Compliance for the UHealth System. Additionally, Dr. Vasiliu-Feltes is an Honorary Advisory Board Member of several companies, entrepreneurship incubators or accelerators, as well as an Editorial Board Member for several international publications, an author, keynote speaker, and TV/Media partner.
Yelena Yesha, PhD
Director | UM IDSC AI + Machine Learning Program and IDSC Innovation Officer
Knight Foundation Endowed Chair of Data Science and AI
Founding Director, NSF CARTA
At the University of Miami, Dr. Yelena Yesha is the Knight Foundation Endowed Chair of Data Science and AI at the Institute for Data Science and Computing (IDSC). At IDSC, Dr. Yesha is also the Innovation Officer and Head of International Relations. In this role, Dr. Yesha assists faculty in engaging government and industrial partners to collaborate with the University and consults with faculty on developing research ideas into innovations.
Dr. Yesha was the Founding Director of the National Science Foundation Center for Accelerated Real Time Analytics (CARTA), an NSF-funded Industry/University Cooperative Research Center (I/UCRC) that aims to develop long-term partnerships among industry, academia, and government. CARTA partners with Rutgers University New Brunswick, North Carolina State University, the University of Maryland Baltimore County (UMBC), Tel Aviv University, and the University of Miami.
Dr. Yesha received her B.Sc. degrees in Computer Science and in Applied Mathematics from York University, Toronto, Canada, and her M.Sc. degree and Ph.D. degree in Computer Science from The Ohio State University. She has published 11 books as author or editor, and more than 200 papers in prestigious refereed journals and refereed conference proceedings, and she has been awarded external funding in a total amount exceeding 45 million dollars. She is currently working with leading industrial companies and government agencies on new innovative technology in the areas of blockchains, cybersecurity, and big data analytics with applications to electronic commerce, climate change, and digital healthcare. Dr. Yesha is a Fellow of the IBM Centre for Advanced Studies.
Forbes magazine highlighted Dr. Yesha's accomplishments in technology in a two-part profile: Part I: Dr. Yelena Yesha: Meet The Tenacious Pioneer Pushing Innovation To Address Real World Problems and Part II: Dr. Yelena Yesha: Pushing Technology Boundaries To Solve The World's Biggest Problems.
Break—EXHIBITS Open [ 2:25-2:45  PM ]
PANEL 2 Resilient Networks [ 2:45-3:30 PM ]
Power grids, telecommunications, transportation infrastructure: the networks that are fundamental to the workings of a city are increasingly disrupted by climate change impacts. The panel presents and discusses the use of technology in developing adaptation strategies and solutions.
MODERATOR
Dean | UM College of Engineering
Professor Biswas is the Dean of the University of Miami College of Engineering. He is a faculty member in the Dept of Chemical, Environmental and Materials Engineering, with an affiliated appointment in the Rosenstiel School of Marine and Atmospheric Sciences. Dean Biswas is a pioneer in his field recognized for applying aerosol science and engineering to multiple areas, such as energy and environmental nanotechnology, solar energy, air pollution control, and medicine. He is a Member of the National Academy of Engineering, and a Fellow of the American Association for the Advancement of Science (AAAS), the world's largest scientific society, for his pioneering contributions to aerosol science and engineering. Prior to joining the University of Miami, he was the Lucy and Stanley Lopata Professor and Chair of the Department of Energy, Environmental, and Chemical Engineering at Washington University in St. Louis (Missouri). He also served as the Asst. Vice Chancellor for International Programs, and as the Director of the McDonnell Academy Global Energy and Environmental Partnership (MAGEEP). Pratim Biswas received his PhD from the California Institute of Technology; MS from the University of California, Los Angeles, and his BTech degree from the Indian Institute of Technology, Bombay.
Professor Biswas's research and educational interests include aerosol science and engineering, nanoparticle technology, air quality engineering, environmentally benign energy production, combustion, materials processing for environmental technologies, environmentally benign processing, environmental nanotechnology, public health, and the thermal sciences. His work is conducted through the world-renowned Aerosol and Air Quality Research Laboratory (AAQRL). His research is funded by the National Science Foundation, US Department of Energy, National Institutes of Health, US Environmental Protection Agency, and by industry. He has graduated and advised 60 PhD students, and, with them, published more than 450 refereed journal articles.
PANELISTS
Guillermo Aleman
Manager, Technology and Innovation |  Florida Power & Light
Guillermo Aleman is Manager of Technology and Innovation on the Smart Grid and Innovation Team for Florida Power and Light. In this role, he leads multiple teams responsible for the development and testing of new technologies, predictive algorithms, and applications for situational awareness and intelligence, with the goal of improving productivity and cost reduction.
Prior to his current role, Guillermo was the Outlier Reliability Manager. In this role, he was responsible for core reliability programs and processes designed to improve the reliability of the worst performing devices. His team was responsible for some of FPL's core indicators including CEMI, MAIFI, CEMM, and CME. Before this, he was the Manager of Lateral Reliability for Power Delivery and led a team responsible for the performance of lower level devices including laterals and transformers. He previously also served as a lead at the Equipment Repair Center where he oversaw the testing, repair, and failure mode investigations for distribution equipment. He also ran the field operations for the thermal inspection program and the vault inspection program. He started his career at FPL as a Protection and Control engineer in Dade County.
Guillermo earned a bachelor's degree in computer engineering graduating Magna Cum Laude from Florida International University. He is certified as a Six Sigma Black Belt.
Assistant Professor, Department of Electrical and Computer Engineering | UM College of Engineering
Dr. Mingzhe Chen received his Ph.D. degree from Beijing University of Posts and Telecommunications in Beijing, China, in 2019. From 2016 to 2019, he was a Visiting Researcher at the Department of Electrical and Computer Engineering at Virginia Tech, working with Prof. Walid Saad. From 2019 to 2021, he was a Postdoctoral Research Associate with the Department of Electrical and Computer Engineering at Princeton University, working with Prof. H. Vincent Poor. In 2022, he worked as an AI Researcher at Ericsson Research, USA.
His research interests include: machine learning and artificial intelligence (AI) for wireless networks, distributed/dederated learning fundamentals, distributed/federated learning over real-world wireless networks, virtual reality over wireless networks, unmanned aerial vehicle over wireless networks, and age of information. (Read the recent article in IDSC Magazine on Mingzhe.)
Carlos Cruz-Casas, P.E.
Chief Innovation Officer | Transportation and Public Works, Miami-Dade County
Carlos is the Chief Innovation Officer at Miami-Dade County's Department of Transportation and Public Works. His primary focus is to introduce mobility innovation and plan for a fully integrated transportation system. His career includes both public and private sector experience ranging from conceptual design to implementation of pedestrian, bicycle, transit, and traffic projects. As a professional engineer dedicated to the development of Livable Transportation, Carlos seeks to achieve the right balance between mobility and livability.
Carlos received his Master's degree in urban transportation planning from University of Florida's College of Engineering, and his Bachelor's degree in civil engineering from the University of Puerto Rico. He now serves as a Board Member for the Open Mobility Foundation.
Matt Denesuk, PhD
Senior Vice President | Data Analytics & AI, Royal Caribbean Group
Matt Denesuk has devoted his life to using math & data to make the world work better.  He is currently SVP of Data Analytics & AI at Royal Caribbean Group, and leads the development and deployment of data- and data-science-driven capabilities across the company, in such areas as revenue management, industrial operations, customer experience, marketing, sales, hotel operations, and supply chain. He previously was Chief Data Science Officer and a founder of Noodle.ai, which provides AI-as-a-Service to enterprise and industrial firms. Prior to that, he was the Chief Data Science Officer of General Electric, leading the data, analytics, and Data Science functions across GE's industrial business units.  He also led Smarter Planet Modeling & Analytics at IBM Research, and was a Partner in IBM's Venture Capital Group. Matt has B.S., M.S., and Ph.D. Degrees from MIT and the University of Arizona.
Brian Freed
Chief Operating Office | Eagle Aerospace
Brian Freed, the CEO of Eagle Aerospace Ltd., has had a diverse career path that started on Wall Street and then transitioned to digital airfield solutions, with stints in HPC and connected pharmaceutical solutions along the way. Throughout his journey, Brian has maintained a strong focus on the data lifecycle, including point of capture, data storage, data networking, data analysis, and cloud-to-edge solutions for closed-loop response.
At Eagle Aerospace, he's responsible for leading the product and go-to-market strategy for the company's digital solutions portfolio. Prior to his current role he was the COO at Phizzle, an IoT software provider that specializes in digital transformation in the pharmaceutical manufacturing space. Additionally, Brian held the position of General Manager of the High-Performance Data Analytics (HPDA) business unit at SGI.
Before SGI, Brian spent 13 years on Wall Street, where he worked as a Chartered Financial Analyst. During his time there, he focused exclusively on industry research, financial modeling, and investment recommendations for companies that used Data Analytics and Data Lifecycle technology.
Director of Innovation and Technology | City of Coral Gables Innovation and Technology Department
Raimundo Rodulfo started his career in the early 1990s as an engineer in the telecommunications industry. He joined the City of Coral Gables in 2004 and currently leads strategic planning, oversight and management of citywide IT operations, infrastructure, and smart city initiatives. Under his leadership, the City has received numerous awards including IEEE Smart Cities Jury Award in 2022, first place in the Digital Cities 2018 for cities of up to 75K population, first place in the U.S. Open Cities Index in 2019 and 2020, Smart 50 Award in Urban Infrastructure in 2020, Smart Cities Council Innovation Excellence Award in 2022, and being recognized as one of the 8 Smart Cities to Watch in 2020 by State Tech Magazine and as one of the 12 finalists worldwide in the Gartner Eye on Innovation Awards for government in 2021.
Prior to joining the City, he spent ten years in the private sector working for various Fortune 500 companies such as Bellsouth, Siemens, and NCR in varying capacities. During this time, he also assisted on technology projects for Motorola and Lucent Technologies in Chicago, and Agilent Technologies in Silicon Valley.
He volunteers as Co-Chair of the National Institute of Standards and Technology (NIST) Global Cities Team Challenge (GCTC) Superclusters, as a member of the World Business Angel Imvestment Forum (WBAF) Miami Board of Directors and the Cities Today Institute (CTI) Leadership Forum, and as an advisory member of international nonprofit professional committees and engineering standard development organizations. He has been a guest speaker at numerous conferences and events, and has also authored multiple research papers, articles, technical book chapters, and other publications in the areas of smart cities, engineering, and technology.
Rodulfo has received numerous awards and recognition throughout his career. Most recently, he received the Globant Digital Disruptor award and the CyberTrust Pioneer award in 2021, was named to State Tech Magazine's list of 30 State and Local Government IT Influencers Worth a Follow in 2020, and received the Key to the City from the Mayor of Coral Gables.
He holds a Master of Science in Engineering Management and a Graduate Certificate in Enterprise Systems from Florida International University, and a Bachelor of Science in Electrical and Electronics Engineering from National Polytechnic University. He is a Licensed Professional Engineer (P.E., Florida and National NCEES Record), a Senior Member of the Institute of Electrical and Electronics Engineers (IEEE) and the Institute of Industrial and Systems Engineers (IISE), a certified Project Management Professional (PMP) and Six Sigma Black Belt (CSSBB), and a certified professional in PCI, HIPAA, Incident Management, Virtualization, SAP, and ITIL.
Break—EXHIBITS Open [ 3:30-3:50  PM ]
PANEL 3 Design and Policy for Coastal Resilience [ 3:50-4:30 PM ]
The panel considers innovative design solutions and municipal strategies addressing the double threats of intensifying weather events and incremental sea level rise. Could policy and innovation effectively align to protect vulnerable coastlines?
MODERATOR
Director of Innovation | Miami-Dade County
With an eye for innovation, strategic vision, and multidisciplinary experience, Ana has helped advance IT strategy and the organizational transformation that drive the customer experience in Miami-Dade. By cultivating competencies in innovation infrastructure and digital strategy, she has the vision for what a Future Ready government needs to make community impact. With over 20 years in the field, Ana bridges gaps between creative and development teams, business users, and C-level executives to provide effective, customer-centric solutions.
Her experience includes directing the functions and programs related to the County's information channels (miamidade.gov, 311 Answer Center, and Miami-Dade TV) as well as the development of civic engagement and customer service strategy for customers. Ana has cultivated long-standing relationships with public and private partners to enhance the customer experience tackling a municipal-wide open data platform, building a cross-municipal strategic alliance as well as the evolution of the County's omnichannel presence. Ana is a long-standing member of the FIU Kopenhaver Center Leadership Council in CARTA's Innovation Labs + Incubators. In this role, she has contributed valuable input in modernizing student curriculum and directly mentoring graduate students fighting to find a place in the Digital and Communications space in the private sector. In addition, as a Government Community of Interest leader, she is initiating global dialogue and crafting content as a Technology contributor in the BRMBOK for the BRM Institute. As a founding member of the Vizcaya Tech Advisory Committee, Ana worked with the museum's IT team to establish its independent systems, network and security to tackle its digital footprint. This includes resilience and preservation projects using new media and tech like AR, VR and 3D exhibit experiences. Ana is passionate about community engagement and philanthropic causes providing outreach support for Pediatric and Breast Cancer, Habitat for Humanity, Alzheimer's disease, and expanding government reach in the Miami Tech movement with opportunities such as eMerge Americas, Miami Tech Month (April 2023), and local hack events. It is with bold tenacity and a passion for making community impact that she leaves an imprint as she moves full speed ahead as a driver in the digital revolution and renaissance that we are experiencing today.
PANELISTS
Associate Professor of Practice, Dept. of Civil, Architectural, and Environmental Engineering | UM College of Engineering
Dr. Andiroglu is an Associate Professor of Practice in Department of Civil, Architectural and Environmental Engineering with a secondary appointment at School of Architecture. In addition, he is the Director of MS in Construction Management Program offered by College of Engineering. He is a registered Professional Engineer and a LEED AP accredited educator with academic focus on building environmental systems, water resources and sustainability areas. His research area of interest is aimed at development of engineered solutions related to smart water-energy infrastructures in response to climate change challenges in urban community settings. He is currently engaged in a U-LINK (Laboratory for Integrative Knowledge) research project with focus on development of next generation of coastal structures in response to climate change impacts in our community and beyond.
Dr. Andiroglu's other work includes development of virtual fan/pump flow meters and their application towards operational efficiency optimization of air/water conveyance systems. He has recently started a new pilot project in the local community in partnership with Miami-Dade County Water and Sewer Department to apply virtual flow metering technology to improve operational efficiencies of wastewater pump stations.
Professor and Chair, Department of Ocean Sciences | UM Rosenstiel School of Marine, Atomospheric, and Earth Science
Dr. Haus is a Professor and Chair of the Department of Ocean Sciences at the University of Miami Rosenstiel School of Marine and Atmospheric Science. His research focuses on experimental studies of air-sea interactions, ocean surface currents, radar remote sensing of oceanographic processes, shelf and estuary dynamics and wave-current interactions. Key to these efforts are laboratory studies of air-sea interactions and turbulence in the SUSTAIN Laboratory.
Landolf Rhode-Barbarigos, PhD
Assistant Professor | UM College of Engineering
Dr. Rhode-Barbarigos is an Assistant Professor in the Department of Civil and Architectural Engineering with secondary appointments at the School of Architecture and the Department of Ocean Sciences at the Rosenstiel School of Marine, Atmospheric, and Earth Science.
He is an expert in structural morphology, which investigates the relationship between structures, as well as their form, function, material and forces. He focuses on lightweight structures, such as tensegrity systems, as well as coastal applications, including ecofriendly solutions for shoreline protection.
Roland I. Samimy, PhD
Chief Resilience and Sustainability Officer | Village of Key Biscayne
Dr. Roland Samimy holds the position of Chief Resilience and Sustainability Officer (CRSO) for the Village of Key Biscayne, FL.  Dr. Samimy is responsible for the development, oversight and delivery of initiatives targeted towards advancing resilience and sustainability across the Key Biscayne community to address chronic and acute impacts from climate change and sea level rise.  Dr. Samimy is currently leading the launch of the Village-wide Resilient Infrastructure Upgrade Program that will be executed over a 10-15 year period and focus on shoreline protection, stormwater system enhancement, roadway improvement, and hardening of critical utilities (electrical, telecom, water, sewer). Prior to taking the position of CRSO, Dr. Samimy was a Senior Scientist and Water Resources Technical Manager for Atkins Global, a large international engineering – environmental consulting firm. Before joining Atkins in 2018, Dr. Samimy was a full time Hydrologist and Senior Research Manager for the Coastal Systems Program within the Department of Estuarine and Ocean Science at the School for Marine Science and Technology (SMAST) of the University of Massachusetts-Dartmouth (UMD). During that time he was also a visiting scholar at Florida International University in the Applied Research Center. Dr. Samimy is a Fellow member of the Explorers Club and completed a Ph.D. in Coastal Systems Science at UMD-SMAST. Receiving his M.S. (Water Resources Systems Engineering) and M.A. (Urban and Environmental Policy) from Tufts University, Dr. Samimy served as the Technical Coordinator and Technical Lead in Hydrology for the Massachusetts Estuaries Project (MEP), one of the largest on-going estuarine restoration programs in the United States.
Prior to joining the University of Massachusetts Coastal Systems Program Team Dr. Samimy worked as a water resources scientist for CDM-Smith. During that time Mr. Samimy was engaged in numerous scientific assignments such as completion of a water supply assessment for the Republic of Palau through a contract with the Office of Foreign Disaster Assistance (OFDA).  Additionally, while a contract scientist to a research program run out of Woods Hole Oceanographic Institute, Dr. Samimy also spent two field seasons (1994 and 1995) in Antarctica as a member of a small science team completing the two final years a whole ecosystem research grant issued by the National Science Foundation.  On his spare time, he relaxes by farming lychees in south Florida, deep decompression wreck diving, sailing, and kite surfing as hard as the wind will blow, and spending as much time as possible with his 21-year old son Perry and wife Ellen of 27 years.
INVITED CLOSING KEYNOTE [ 4:30-5:10 PM ]
The Honorable Daniella Levine Cava
Daniella Levine Cava was elected Miami-Dade County's first-ever woman Mayor in November 2020. She entered the Mayor's office following a 40-year career as a relentless advocate for South Florida families in public service and elected leadership. As Miami-Dade County's Mayor, she oversees a metropolitan government with nearly 30,000 employees serving nearly 3 million residents, managing an annual budget of approximately $10 billion. Since taking office, she has worked to protect lives and livelihoods by deploying a countywide operation to distribute coronavirus vaccines efficiently and equitably across Miami-Dade; appointing the County's first Chief Medical officer; and working closely with city leaders and the business community to spread a unified pandemic response message. In collaboration with the Board of County Commissioners, she is working to distribute millions of federal dollars in American Rescue Plan relief funds to support small businesses and residents impacted by the pandemic, invest in critical infrastructure projects, and kickstart long term recovery.
Mayor Levine Cava's administration is focused on building a stronger, more inclusive, more resilient Miami-Dade: prioritizing reforms to make our county safer and prevent gun violence through the Peace and Prosperity Plan; restoring and reinvigorating a thriving economy that delivers economic security for Miami-Dade businesses and families and attracts new industries; saving Biscayne Bay and building and protecting our environment; and directly engaging with residents to make local government more responsive, transparent, and accountable. Learn more about the Mayor's key priorities and progress.
Networking Reception—Exhibits Open [ 5:12-7:00 PM ]
DAY TWO •
Spotlight on Miami + Medellin: How to Build a Resilient City
Light Breakfast + Registration  [ 8:00-9:00  AM ]
Day Two Begins [ 9:00 AM ]
KEYNOTE SPEAKER [ 9:00-9:45 AM ]
Jorge Ponce Dawson
Main Board Director | Broadway Malyan
Jorge is the Director of Broadway Malyan, Spain. Born in Buenos Aires, Jorge moved to Spain and within the first five years established an architectural studio in Málaga.
Jorge has a profound understanding of the world of architecture, specializing in Retail, Urbanism, Mixed Use, and Residential. He is a prolific speaker at international forums on topics like  "The City of the Future" and the "The Retail of the Future."  Apart from his work at Broadway Malyan, Jorge leads a Think Tank, is the Director of the Club de Lecturas, and has forged a solid reputation as an influencer in social networks.
PANEL 1 Miami/Medellin: How to Build a Resilient City   [ 9:45-10:30 AM ]
The panel brings developers, architects, planners, and policy makers from different cities to share and compare recent histories, current strategies, and visions for resilient futures in the face of climate change impacts and other stressors.
MODERATOR
Carie Penabad
Associate Professor | UM School of Architecture
Founding Partner | CÚRE & PENABAD Architecture
Carie Penabad holds a Bachelor of Architecture from the University of Miami and a Masters of Architecture in Urban Design from Harvard University. She is currently an Associate Professor at the University of Miami School of Architecture; and has held the Louis I Kahn Visiting Assistant Professorship at Yale University with Adib Cure.  Her publications include:  Marion Manley: Miami's First Woman Architect (with Catherine Lynn, University of Georgia Press, 2010); Call to Order: Sustaining Simplicity in Architecture (ORO Publishers, 2018), and the forthcoming book: Made in Miami/Hecho en Miami (with Adib Cure, Actar Publishers, 2023).
Parallel to her teaching, writing and research, Penabad is a founding partner of the Miami-based firm of CÚRE & PENABAD Architecture.  The work of the firm has insisted on the importance of architecture and the design of the city as a singular investigation where inquiry and realization, poetry and practicality, history and invention are inextricably linked.  Most recently, the firm was honored with the prestigious Emerging Voices prize from the Architectural League of New York, a competition that recognizes individuals with a distinct design voice and a significant body of realized work.
As of January 2023, Penabad is the host of ON CITIES, a national radio show on the Voice America network focused on the ways that the design of our built environment shapes the quality of our lives. The show is syndicated and can be found on Spotify, Apple iTunes, and other podcast platforms.
PANELISTS
Matt Anderson
Assistant Director for Mobility and Sustainability | City of Coral Gables Sustainable Public Infrastructure Division
Matt's primary responsibilities include: Coordinating and managing all of the environmental, sustainability, and resiliency initiatives in the City. This includes, but is not limited to, overseeing the development and implementation of the City's Sustainability Management Plan. Matt serves as Staff liaison for the City's Sustainability Advisory Board, and works across all city departments to develop policies and actions to reduce energy, water, fuel consumption, and City operations and community-wide greenhouse gas emissions. Matt's responsibilities also include assisting in expanding the City's electric vehicle fleet and charging infrastructure, alternative transportation options, and coordinating the majority of the City's community environmental events and environmental awareness campaigns. He coordinates the City's participation in the SE Florida Regional Climate Compact and is involved in developing climate change and sea level rise adaptation and mitigation strategies. Matt is a LEED AP O+M and Envision Sustainability Professional.
Natalia Castaño Cárdenas
Director + Architect | Project Leader, URBAM (Universidad EAFIT university studio)
Natalia is an architect from the National University, with a Master in Landscape, Environment, and City from the National University of La Plata, Argentina. Natalia has worked at the Urban Development Company from 2004 to 2007 in the design of public space projects and the development of strategic urban projects.
She worked in Quito with the Ciclópolis Foundation, in Portoviejo (Ecuador) with Belgian International Cooperation as technical support to the Municipality, in Lima in the development of a public space project for the District of Comas, and in Pisco (Peru) in the development of proposals for the reconstruction of the city. During 2011, she was part of the technical team of the BIO 2030 Master Plan for the Aburrá Valley. She was the academic coordinator of urbam and of the Master's Degree in Urban and Environmental Processes of the EAFIT University between 2012 and 2016. She is currently part of the group of project coordinators of the Center for Urban and Environmental Studies.
Álvaro Martínez Fernández, P.E., S.I.
Regional Vice President of Structural Engineering | Double C
Álvaro has experience in leading local and international structural engineering teams. Currently, he is the regional vice-president of structural engineering at Double C by Conconcreto in Miami, Florida. In this capacity, he plans and oversees the execution of structural designs for all projects in the US market and leads and prepares proposals for new projects. Álvaro is the engineer of record on a wide variety of multi-family, commercial, and industrial structural design projects as well as manages a team of 55 professionals through the design and construction administration phases.
Álvaro has a Master of Science in civil and structural engineering from Cantabria University in Santander, Spain, and an Executive Master of Business Administration from Quantic University in Washington, D.C.
Gian Carlo Mazzanti
Review Architect | El Equipo Mazzanti
Gian Carlo Mazzanti graduated from the Javeriana University of Colombia, with postgraduate studies in industrial design and architecture in Florence, Italy. He has academic experience as a visiting professor at numerous Colombian universities, as well as at world-renowned universities such as Harvard, Columbia, and Princeton; and he is the first Colombian architect to have his works in the permanent collection of the Museum of Modern Art (MoMA), New York and in the Centre Pompidou, in Paris.
Giancarlo has more than 25 years of professional experience and his studio, El Equipo Mazzanti, located in Bogotá, has gained notoriety due to its design philosophy based on modules and systems, with which flexible elements capable of growing are generated and adapt over time, looking for an architecture that is closer to the idea of strategy than to a finite and closed composition. This idea of architecture as an operation is born from exploring the different forms of material and spatial organization, taking into account concepts such as repetition, the indeterminate, the unfinished, instability, layout, and patterns.
The Mazzanti Team also stands out for the research it has carried out on the game and its link with the world of architecture. It is precisely this interest in the game-architecture relationship that has led him to seek new collaborations with professionals from different areas of knowledge, finding new opportunities for cooperation, and developing projects and exhibitions that have been presented throughout the world under the brand We play You play.
Social values are at the center of Mazzanti's architecture, who seeks to carry out projects that give value to social transformations and build communities. He has dedicated his professional life to improving the quality of life through the design of the environment and the idea of social equality. His work has become a reflection of the current social changes taking place in Latin America and Colombia, demonstrating that good architecture manages to build new identities for cities, towns, and inhabitants, transcending reputations of crime and poverty.
Elizabeth Plater-Zyberk, FAIA, LEED AP
Malcolm Matheson Distinguished Professor of Architecture
Director, Master of Urban Design program | University of Miami School of Architecture
Elizabeth Plater-Zyberk is Malcolm Matheson Distinguished Professor of Architecture and Director of the Master of Urban Design Program. She has a joint appointment in the Department of Public Health Sciences at the Miller School of Medicine.  She was dean of the School of Architecture 1995-2013.  She teaches courses on urban design and built environment adaptation to climate change.
Plater-Zyberk has collaborated with faculty across the University including recently with Engineering colleagues researching net-zero water management in buildings.  She is a member of the UM Built Environment Behavior and Health Research Group, working with Miller School faculty on projects researching the well-being of children and elders' relation to characteristics of the built context in which they live.  As a consultant with DPZ Partners, she has worked with healthcare systems in Richmond and Chicago on the design of their campuses and community surroundings.
Plater-Zyberk is recognized as a leader of the movement called the New Urbanism, promoting walkable resilient urban design.  A co-founder of the Congress for the New Urbanism (CNU) in 1992, her teaching, research, and consulting professional practice has ranged across new community design, community rebuilding, regional plans, and zoning codes.  A number of innovations in professional practice, such as the traditional neighborhood design zoning code (TND), were initiated with students in School of Architecture design studios and first implemented through community outreach in South Florida.  Recent professional projects include the design of the University President's house and the City of Miami Zoning Code, Miami 21.
Plater-Zyberk's publications include refereed journal articles and book chapters.  She is co-author of Suburban Nation: the Rise of Sprawl and the Decline of the American Dream (over 85,000 sold), and The New Civic Art: Elements of Town Planning.  Her work, with Andres Duany and DPZ Partners, has received numerous awards and recognitions including honorary degrees, Architectural Record's first Women in Architecture Award, and the Richard H. Driehaus Prize for Classical Architecture.  She has served on numerous review and editorial panels, including the U.S. Commission of Fine Arts. (See full UM bio.)
Head of Climate Tech and Economic Innovation | Miami-Dade County
Galen Treuer handles Climate Tech and Innovation for Miami-Dade County. He leads major climate tech projects for Miami-Dade and oversees their step by step execution. As part of the NSF-funded South Florida Water Sustainability and Climate project, he uses a combination of qualitative (interviews + participant observation) and quantitative (experiments + surveys) techniques to identify behavioral barriers to the effective use of scientific information, including a hydro-economic model that optimizes water allocation for the Everglades watershed across multiple future climate and land use scenarios.
In his experimental research, Galen uses an online tool that accelerates participants in time to simulate the experience of future hazard. Through collaboration with partners including agencies and local governments, the aim is to contribute to the effective implementation of sustainable, climate resilient policy. He received his BA in economics from Oberlin College and is an NSF graduate research fellow, and completed his PhD at University of Miami in 2017 (focused mainly on climate change impacts, risk perception and policy level decision making as it related to urban water management and sea level rise in South Florida). Before coming to the University of Miami, Galen was a research assistant at Columbia University's Center for Research on Environmental Decisions and Columbia Business School's Center for Decision Sciences.
Break  [ 10:30-10:45  AM ]
PANEL 2 Game Changers: Transformative Technology for the Building Industry [ 10:45 AM ]
Most industries and professional fields have been transformed by new technology. The building industry has yet to undergo major disruptions. Radically innovative technologies may soon change that. The panel explores potential agents of disruption, from new building materials to additive manufacturing and AI
MODERATOR
Bob Miller is a native of Miami and holds a degree in Architectural Engineering from the University of Miami ('77). Bob is a licensed general contractor and had a forty-two-year career as a principal and CEO of First Florida Building Corporation. First Florida has buildings in 48 states, Canada, and the Caribbean. During his tenure, First Florida produced more than two billion in revenues and constructed varied projects including: 12,000 apartments, numerous hotels and resorts, and a section of the Pan American Highway in Colombia. Bob sold First Florida to a key employee in 2017.
Bob is a past president of the Associated General Contractors and a Board Member of Rebuilding Together National. He serves on the University of Miami School of Architecture Visiting Committee and is Chair of its Construction Management Board.
PANELISTS
Andy Cohen
Chairman + CEO | Admix Innovations
Andy Cohen is the chairman and CEO of Admix Innovations, an early stage technology company that has solved for the dispersion, homogenization and adhesion of nanoparticles into a cementitious mix design. This ground breaking green dispersion technology has unlocked a non-disruptive method to deliver Graphene into both mortar and concrete products without the need for specialty mixing equipment using a single dose of their Equinox™ product line. The byproduct of this invention is that it will also deliver recycled and waste materials such as; rubber, glass, plastics, metals and a host of fibers to enhance the quest for sustainability.
Andy is an innovative and process-driven business leader with a genuine passion for helping disruptive businesses and investors realize their full potential. With holdings in recruiting, technology and investor services his collection of companies is uniquely positioned to enhance the investment thesis and guide these portfolio companies to scale and commercialization.
Director, Fabrication | University of Miami
Director | Daft Buro, LLC
Max Jarosz is a licensed architect and the Director of Fabrication at the University of Miami where he oversees the fabrication facilities and operations. He teaches courses on robotics, digital fabrication, and emerging technology in the field of Architecture. Max is currently serving as the principal investigator for the Double C Research Unit and serves on the Digital Fabrication and Technology committee, D.E.I. committee, and the Construction Technology sub-committee at the University of Miami. He has been included in a variety of publications such as Architect Magazine and MAS Context, and presented at conferences including the 2022 Smart Cities MIAMI Conference and the 2019 AIA Conference.
Max holds a Master of Architecture from the Massachusetts Institute of Technology (MIT). Additionally, he holds a Master of Business Administration from the University of Miami. Prior to joining the University of Miami, Jarosz was a project architect and worked at internationally recognized architecture firms in Boston and New York.
Philip Lund-Nielsen
Co-Founder & Head of Americas | COBOD International
Philip Lund-Nielsen is Co-founder of COBOD International, the World's #1 supplier of 3D printers for the construction industry, with investors General Electric (USA), Holcim (Switzerland), CEMEX (Mexico), and PERI Group (Germany). After building experience as management consultant with McKinsey & Co., Philip re-joined COBOD in 2021 to assume his current role as Head of Americas. In 2022, he moved to Miami with his team to establish COBOD's regional research facilities in collaboration with the University of Miami.
Kenneth Smuts
President | Renco, USA
Ken is the President of Renco, USA, Inc., a composite manufacturing and building industry start-up. He has spearheaded the research and development of the Renco Structural Building System in the United States and has codified and secured Renco's approvals under the International Building Code (IBC). Having secured US patents and all necessary approvals to build mineral composite fiber reinforced structures under the IBC, Renco is embarking on a campaign to launch the marketing, sale and implementation of its structural building products throughout the United States.
Ken is also an accomplished builder and real estate developer, successfully completing over $5 billion dollars of development and construction projects. He has over 30 years of development, design, financing, construction management and sales and marketing experience on a wide variety of mixed-use, multi-family, hospitality, retail, commercial office, health care and industrial projects.
Starting his career as a nuclear construction engineer, he moved to commercial building where he quickly advanced as a project manager and then as an executive, providing corporate vision, strategy, leadership and guidance for several prominent New York and Philadelphia based construction managers and developers. Recent appointments include Senior Vice President of Coastal Construction, where he was responsible for assisting prominent clients by managing their development efforts and prior to that, with The Related Group, serving as a Senior Vice President and Managing Director for the $1.5 billion – 2,000,000 square foot St. Regis Bal Harbour Resort & Residences and for the $1.8 billion – 4,000,000 square foot Icon Brickell in Miami, Florida.
Ken is a professional engineer and holds graduate and undergraduate degrees in civil engineering from Drexel and Rutgers University.
CLOSING KEYNOTE [ 11:30 AM ]
Andrew Kudless
William D. Kendall Professor of Design Technologies | University of Houston Gerald D. Hines College of Architecture and Design
Director| Advanced Media Technology Lab, University of Houston
Founder | Matsys
Andrew Kudless is a designer based in Houston, Texas where he is the Bill Kendall Memorial Endowed Professor at the University of Houston's Hines College of Architecture Design as well as the Director of the Construction Robotics and Fabrication Technologies Lab (CRAFT Lab). Previously, Andrew has taught at the California College of the Arts, the Ohio State University, the Architectural Association, and Yale University. In 2004, he founded Matsys, a design studio exploring the emergent relationships between architecture, engineering, biology, and computation. The work of Matsys has been exhibited internationally and is in the permanent collections of the San Francisco Museum of Modern Art, the Centre Pompidou in Paris, and the FRAC Centre in Orleans, France. His work on Confluence Park has won a number of awards including a 2019 AIA National Honor Award. In 2019, he became the first American designer to contribute to Louis Vuitton's Objets Nomades collection. He holds a Master of Arts in Emergent Technologies and Design from the Architectural Association and a Master of Architecture from Tulane University. advanced digital technologies, including construction robotics, full-scale 3D printing, and augmented/virtual realities, among many others.
Conference Ends [ 12:00 PM ]